At St. Bernadette's we recognised the importance of working together with our Parents/Carers to ensure our children are ready for the digital world that can have lots of benefits to their childhood. They are growing up in a digital world that they interact with on a daily basis. Therefore, it is our jobs at school in partnership with yourselves at home, to equip them with the knowledge of both the positive benefits the online world can bring to their life and the potential risks of the online world they live in.
At St. Bernadette's e-safety requirements are a whole school responsibility & are taught across the curriculum, becoming part of the life of St Bernadette's – they are not just something for computing lessons. We have designed our Computing Curriculum to teach Online Safety unit at the start of each academic year and this also weaves though all the lessons that we teach within Computing but also PSHE and other curriculum areas.
You can view our Online Safety Policy here.
Our approach to online safety is primarily guided by the UK Council for Child Internet Safety's framework for online safety… Education in a Connected World. The themes which can be seen below.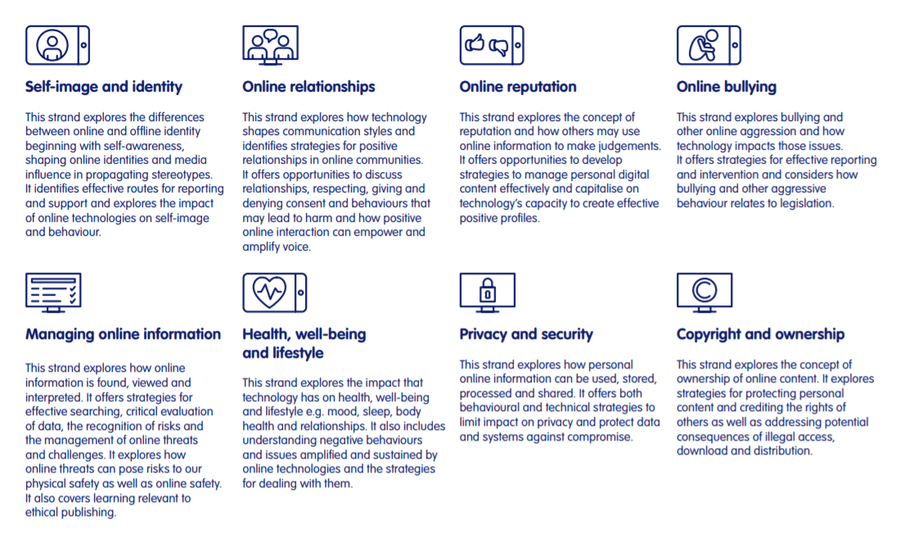 Our e safety elephant teaches us to: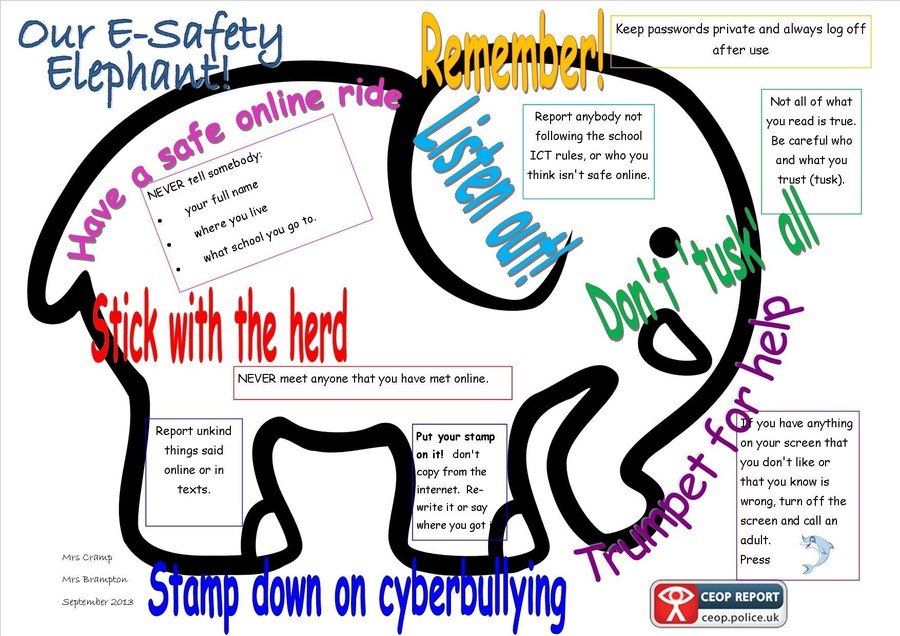 © William Shrewsbury Primary School
Online Curriculum coverage and progression
Our e-safety Long Term Planner ensures progression and coverage, ensuring that all pupils are able to develop skills to keep them safe online. Click here for our e-safety Long Term Planner.

Opportunities for learning about online safety are part of PSHE and reinforced whenever technology is used.

Clear rules for online safety are agreed by each class at the beginning of every year. Parents and pupils sign a Parental consent form & Acceptable user policy at the start of each new academic year. The class rules are then signed annually by pupils and shared with parents. Click Here for our Acceptable Use Policy for our children.

The school supports the international Safer Internet Day each February and provides opportunities for pupils to consider cyberbullying as part of Anti-Bullying week in the autumn term.

Opportunities are taken whenever possible to reinforce messages of a healthy lifestyle.

The school has an online safety policy in place that details how the principles of online safety will be promoted and monitored.
How can I support my child at home?
At St. Bernadette's we recognise the importance of working together with our Parents/Carers to ensures our children are ready for the digital world around them as they are growing up. Therefore, it is important that you are also aware of the potential risks that an online world can bring for your child.
Click here for a Glossary of Online Terms
Below are links for key associations that can provide some further information on how you can support your child at home.
The NSPCC has a wide variety of resources and support guides that cover a wider range of current and new and emerging risks. These are really useful resources from Primary School through to High School.
Childnet
Like the NSPCC, Childnet has a wealth of guidance and advice booklets to support you on topics ranging from screen time, social media, live streaming, online grooming and much more.
Internet Matters
Internet Matters gives advice by age group, so it focuses on apps, websites and advice that is current and relevant to each age group.
ThinkuKnow
ThinkuKnow is a website we use for resources to support our online safety lessons within school. The website is a really useful tool to help your child to the most out of the Internet and Online devices in the safest way.